Reliability and the Move to Resiliency
Aug. 25, 2016
As the industry debates the definition of reliability versus resiliency, the American Public Power Association (APPA) has taken a unique approach to making sure utilities keep an eye on what customers care about most —keeping the lights on. This webinar will discuss how reliability data can be collected on a national level and used to improve restoration efficiency and bring improved resiliency to the causes of utility outages.
Michael J. Hyland
|
Senior Vice President of Engineering Services, APPA
Michael J. Hyland leads the department covering the majority of engineering issues faced by public power, including research and development; engineering and operations; distributed resources; safety; smart grid; physical and cybersecurity; and all others items that tend to be listed under operations of an electric utility. His background includes a Bachelor of Science in electrical engineering from Drexel University, and he's a registered professional engineer. Mike is the current chair of the IEEE National Electric Safety Code and has served on a variety of committees, including NERC's Planning/Engineering Committee.
---
---
Gary Huffman
|
Project Manager, Burns & McDonnell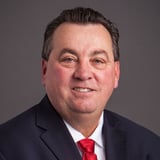 Gary Huffman manages electrical distribution programs for the Burns & McDonnell Transmission and Distribution Group. He works closely with utility clients to develop and implement critical electrical distribution system programs that promote grid modernization, asset life cycle optimization and capital project execution. He has served as the principal program manager for the program team supporting FirstEnergy's Energizing the Future program. Prior to joining Burns & McDonnell, Gary spent 23 years with SCE in various operations and management roles, as well as five years working with California-based electrical construction firms specializing in utility distribution and transmission management and construction.
---
John Hewa is chief executive officer of Pedernales Electric Cooperative, the nation's largest electric distribution cooperative. His experience spans leadership roles in the municipal, cooperative and energy research sectors. Hewa brings an innovative approach and perspective on utility management, energy delivery systems, telecommunications and grid technology solutions. Prior to joining PEC, Hewa served as the National Rural Electric Cooperative Association's (NRECA) vice president of research, engineering and technical services. His role at NRECA included leading the Energy and Power Division, addressing technical regulatory matters at the federal level, and heading up NRECA's Cooperative Research Network, facilitating the advancement of beneficial technologies among the nation's electric cooperative network
---
John Hewa is chief executive officer of Pedernales Electric Cooperative, the nation's largest electric distribution cooperative. His experience spans leadership roles in the municipal, cooperative and energy research sectors. Hewa brings an innovative approach and perspective on utility management, energy delivery systems, telecommunications and grid technology solutions. Prior to joining PEC, Hewa served as the National Rural Electric Cooperative Association's (NRECA) vice president of research, engineering and technical services. His role at NRECA included leading the Energy and Power Division, addressing technical regulatory matters at the federal level, and heading up NRECA's Cooperative Research Network, facilitating the advancement of beneficial technologies among the nation's electric cooperative network
---